Post by pikachu464 on May 26, 2011 10:45:23 GMT -5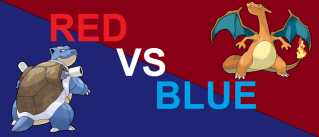 The ultimate quest, the ultimate journey awaits you. Journey though Kanto like never before, collecting all eight badges. From Pallet Town all the way to the Indigo Patatu. Play off of the original Red/Blue/Green/Yellow in story mode where you never know where your journey will take you next.

Story mode, features all the features from the first generation video games. Not only will be tackling your rival in battle after battle every now and then, but you'll have to stop the evil plans of the evil Team Rocket. You will sometimes get gift Pokémon for doing nice things for nice people. You'll really feel like you stepped into the game.

Once you feel like you've mastered Story Mode, take the Roleplay Mode for a spin. In Roleplay Mode, you'll meet and battle everyone from the first generation games. In Roleplay Mode you decide your own adventure in this mode and write it down.

You can meet with other players in Roleplay Mode and travel together. Or you can trade Pokémon with each other or battle. It's all up to you. Just watch out for the evil Team Rocket. There roaming thoughout Kanto trying to take it over. There the big bad evil team from Kanto.

There leader is Giovanni, who is also the final gym leader. He holds the Earth Badge. Although, your character doesn't know that. In Roleplay Mode you can play as a Trainer, a Breeder, or you can even be a Team Rocket member.

If your a breeder, you can set up your own farm and breed and raise Pokémon. You can set up shop there and sell your Pokémon/Eggs at your own price to other players. Members will also come to you, to breed there Pokémon with yours. You can set up a price for that as well.

Or, you can join Team Rocket and be a Grunt. If you got what it takes to be an evil dooer and you have a lot of sussess as a Grunt you will be premoted to an admin. admin members of Team Rocket get paid way more then just normal Grunts. What awaits you after admin? Noboby knows yet. You'll have to join and find out.

As for Trainers, you know who you are. You will travel around battling the gym leaders. Yourgoal? To catch and train Pokémon and eventually take on the members of the Elite Four and become the Kanto League Champion. You also want to complete that Pokédex of yours too. It is said once you catch all 150 Pokémon, a mysterious small pink colored cat type legendary Pokémon will appear. Do, you have what it takes to take on the best of the best? Whatever your path or goals, join us. Today!